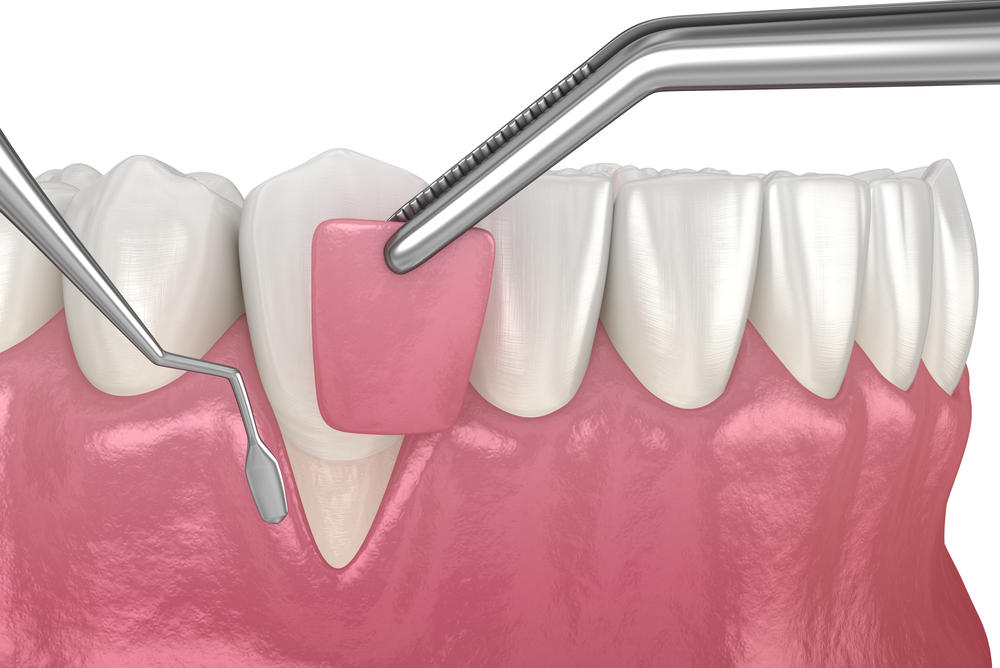 You may have been treated for an oral problem that requires a gum graft and been referred for that surgery. It's a very helpful procedure for patients suffering from receding gums to replace the gums that were lost and correct gum recession can that can cause teeth to be more vulnerable to damage. Sometimes, patients simply aren't happy with the way their gums look. Gum grafting can solve these problems.
If you require gum grafting, you can come to us at Trillium Oral Surgery and Implantology to get it done. This is a common surgery that we perform, and it can solve a number of problems with the gums. 
When Your Gums Recede
Receding gums can cause a lot of oral health problems. Gum recession can cause the tissue surrounding a tooth to pull away, leaving more of the tooth visible and sometimes exposing the root. Root exposure can cause damage to the tooth and the bone that supports it. It may also cause a lot of pain for the patient. The pain in the tooth and the tooth's sensitivity lead people to seek treatment for their receding gums. 
Often, a patient doesn't notice the recession until it becomes severe. In mild cases, it may not cause many problems. However, receding gums tend to worsen over time, and the problem can get serious. 
It may be that once the case becomes severe, you notice how it looks and the uncomfortable way it feels. Many people notice sensitivity first, feeling pain when they eat and drink. When no treatment is given to receding gums, it can get bad enough to cause tooth loss. We want you to hold onto your teeth, and a gum graft may help you keep a tooth that you would have otherwise lost to gum disease. 
What's It Like to Get a Gum Graft?
When your gums are receding, gum grafting can help you get more gum tissue in the area, reversing the process. This is an important part of the treatment, and it can lead to healthier gums and teeth. Some patients get a gum graft for cosmetic purposes, and not being happy with the way it looks is another good reason to have it done. 
Our doctors do different types of these surgeries, and the kind that you should have comes down to how healthy your gums are and their condition. The gum graft you get will depend on gum tissue that comes from somewhere else in your mouth. This makes the health of those gums important to how the graft will be done. 
During your gum graft, you will be kept comfortable with either local anesthetic or sedation, depending on the details of the surgery and your comfort level. We always make sure that you are kept comfortable during your procedure. Be sure to follow the doctor's instructions for caring for the affected areas to keep them in good condition. 
Gum Grafting in Chelsea, Ann Arbor and Plymouth
If you have noticed tooth sensitivity or your gums have receded, talk to your dentist about the problem and whether you need gum grafting to fix it. Trillium Oral Surgery and Implantology can schedule your gum grafting consultation with one of our skilled dentists.