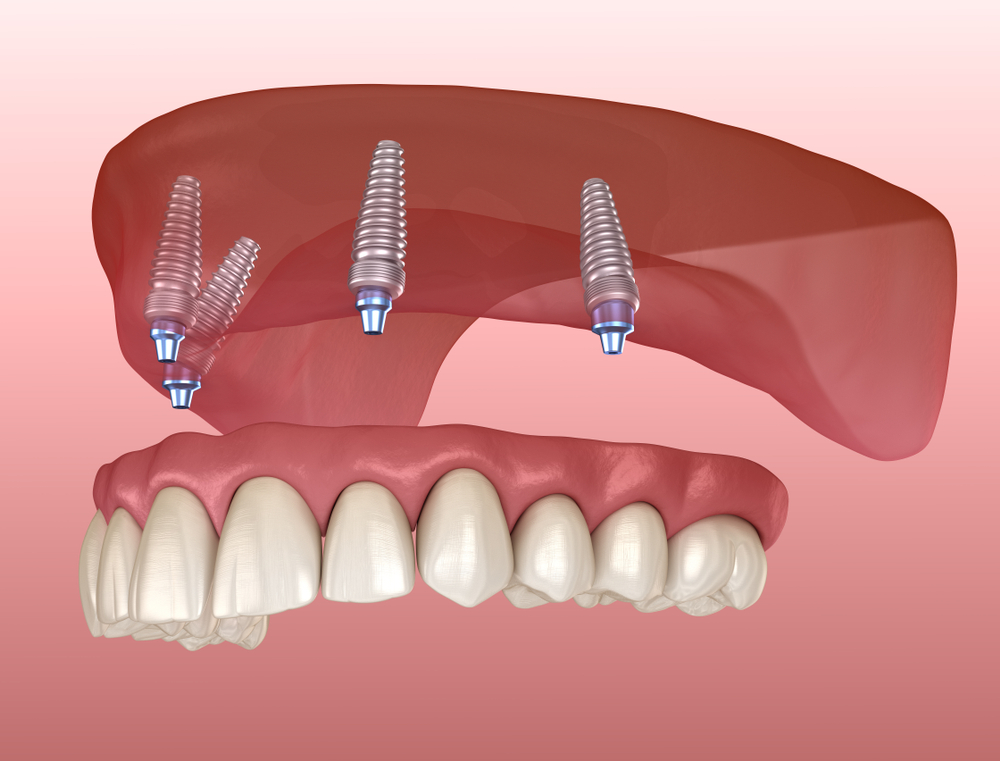 When there is a lot wrong with your teeth and you need to have them all extracted, getting an all-on-4® is an option for replacing them all at once on one arch. This type of denture is perfect for replacing all of your upper or lower teeth with one appliance. If you are going to lose all of your teeth on one arch, or you already have, you can discuss this option with your dentist so that you can be referred to Trillium Oral Surgery and Implantology for a consultation.
What Is an All-on-4®?
When a full arch of teeth is missing, either the upper or the lower teeth, an all-on-4® is a way to hold dentures permanently by anchoring them with four dental implants. This denture will hold anywhere from 10 to 14 replacement teeth. 
This prosthesis is fixed, meaning that it isn't removable except by the surgeon. The four dental implants required are each implanted into the bone to create anchors for the prosthesis. The surgeon can implant the anchoring posts into an area of the jaw with good bone density.
As soon as the implants are placed, the dental prosthesis can be placed without needing to wait for them to heal as with other types of dental implants. The four posts are made with titanium for a high degree of strength and durability. The dentures they will hold are made from acrylic. 
With this permanent prosthesis, the teeth are made to look as natural as possible. No one should be able to tell that they are dentures. Once you have them, you care for them as you would your original teeth, brushing them to keep food particles and debris from accumulating on them. 
Many patients prefer this type of denture to conventional dentures because they can't slip and won't fall out when you sneeze or laugh. This dental solution is a great way to replace all of your teeth without the worries that often come with traditional dentures. You can talk, smile, and eat as you did with your natural teeth. 
The All-on-4® Procedure
For all-on-4® implants and dentures, you will first have an assessment of your teeth and gums so that the surgeon can be sure that you're a good candidate. If you have teeth that need to be removed, this is often the first step. Then, the gums will need to heal from the extraction. 
If you haven't been a candidate for individual implants because of bone loss, getting an all-on-4® doesn't require as much bone. Some patients choose to get this type of implant because they aren't good candidates for individual implants to replace their teeth. This requires far fewer implants, and it doesn't require as much bone. 
After your consultation, an impression will be made of your mouth so that the denture can be created to fit precisely and look great. Then, the actual implants are placed. After that, the new prosthesis can be fitted and adjusted as needed for comfort and a great smile. 
Tooth Replacement Options With Our Skilled Team
If you will have all of your teeth on the upper or lower arch removed, or you have already had them removed, call Trillium Oral Surgery and Implantology to consult about getting an all-on-4® tooth restoration at one of our three convenient offices.