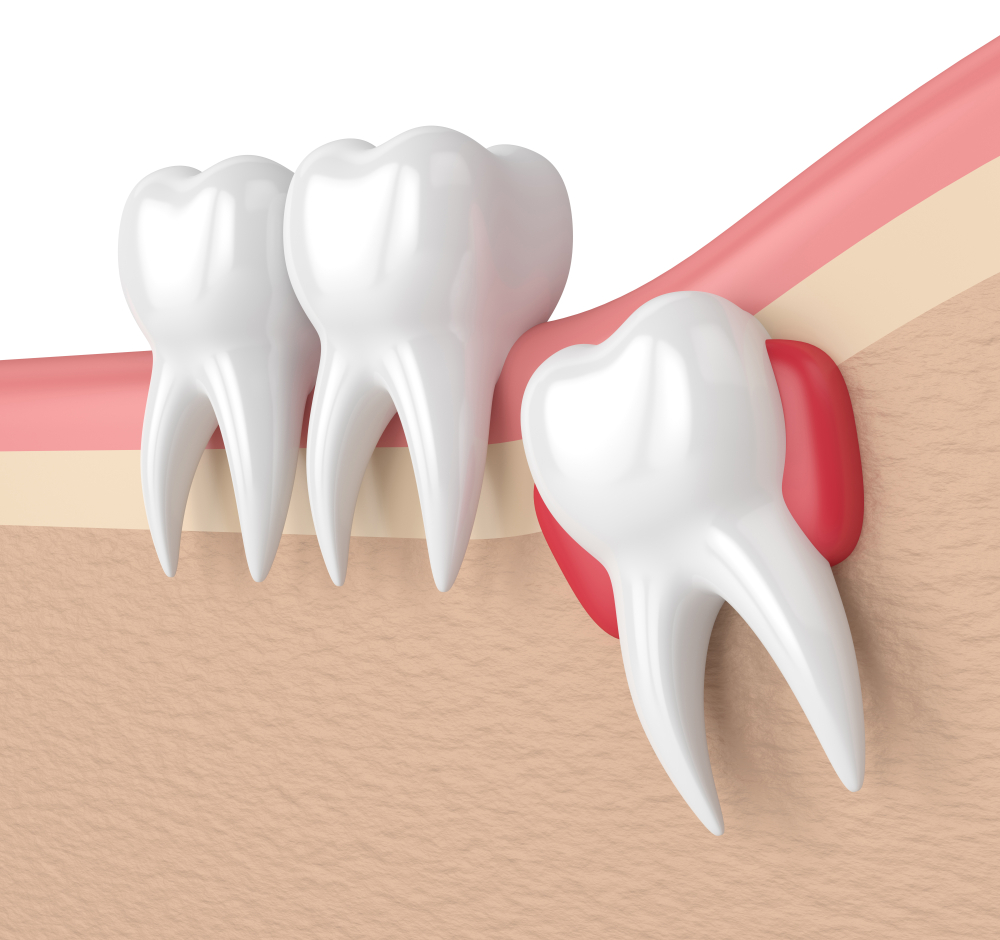 The wisdom teeth are the third set of molars that come in, and there is often not enough room for them to come in correctly, causing problems. These teeth typically come in from ages 16 to 20, but they can come in at 25 or even older. 
When molars do come in, they often need to be removed to keep them from causing problems in your mouth. It's a simple process to remove them, and you will stay comfortable and pain-free during the surgery at Trillium Oral Surgery and Implantology.
Why Do Wisdom Teeth Need To Be Removed?
Many patients' jaws are simply too small to accommodate wisdom teeth. Up to four of these teeth may come in, and they don't have room for proper growth. They can also grow in at odd angles, causing them to not erupt from the gums and instead stay under them. Some of them even grow horizontally.
Wisdom teeth become impacted when they can't rise through the gums. Most people can expect to have at least one of their wisdom teeth to be impacted. Wisdom teeth can put pressure on the other teeth and even on the jaw's bone. This pressure can be damaging to both, making it smart to remove these teeth before they cause any damage. 
The younger the person, the easier the wisdom tooth surgery is. It's important not to wait a long time to have them out, as the roots of the wisdom teeth will get longer and start to curve. This can make them less easy to remove. As soon as your dentist recommends that you have your wisdom teeth out, make your appointment to get it done. 
Getting Wisdom Teeth Removal Surgery
If you have been recommended for wisdom teeth extraction surgery, know that it's a quick, outpatient procedure that is easy for patients. While your general dentist may detect the problem, you will be referred to an oral surgeon for the procedure. You will likely have X-rays taken by your general dentist, and those images will be sent to us for evaluation. 
The doctor can then discuss your surgery with you and tell you what you need to do before you have it. Our team will examine your health history and tell you whether you may need to stop a medication before your surgery. You may also have to take a different medication before the procedure. 
The surgeon will then remove the impacted teeth. The type of anesthesia you have for the procedure often depends on the number and size of the impacted teeth and your personal preference. Some patients get IV sedation, and some may get local anesthesia and nitrous oxide. 
Discuss any worries you have with the doctor and ask about the type of anesthesia you need to have. We want you to be relaxed and completely pain-free during your surgery.  
Wisdom Teeth Solutions With Experienced Dentists
When your wisdom teeth come in, it's best in most cases to have them surgically removed. At Trillium Oral Surgery and Implantology, we can address your wisdom teeth for the best oral health possible.